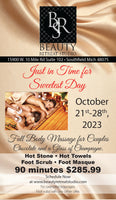 Full Body Massage for Couples
Chocolate & a Glass of Champagne
Hot Stone, Hot Towels, Foot Scrub & Foot Masque

90 Min. $285.99

Note: Groupons are not accepted on Thurday Friday or Saturday. We will honor the $180 Price.
Book Now
Hands On Waxing Class
Waxing Techniques Include
Full Body, Brazilian, Legs & Arms
You Recieve Documentation On
Vendors, Sanitation, Wax Theory, Consent Forms & a Waxing Kit
Book Online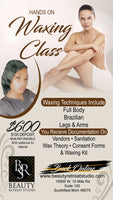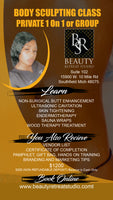 BODY SCULPTING CLASS
$1200
4 HR CLASS FEATURING NON-SURGICAL BUTT ENHANCEMENT, ULTRASONIC CAVITATION, SKIN TIGHTENING, ENDERMOTHERAPY, SAUNA WRAPS, WOOD THERAPY TREATMENT.
INCLUDING: VENDOR LIST, CERTIFICATE OF COMPLETION, PAMPHLET, GIFT BAG, HANDS ON TRAINING, BRANDING AND MARKETING TIPS.
$200 (NON-REFUNDABLE DEPOSIT)
BALANCE MUST BE PAID IN CASH
Face Masks Required.
BOOK NOW!
Sea Moss Gel 32oz

Gift Card

Regular price

from $25.00